Austin, the culturally artistic capital of Texas, is a city that seamlessly blends rich history with an eye-catching arts scene, world-class music, and a love for all things weird and wonderful. While Austin is undoubtedly a marvelous place to explore, it's also popular for being a bit pricey. But fear not!
With some smart insider tips and a little creativity, you can explore this amazing city without emptying the bank. From affordable foodie finds to free outdoor activities, this guide covers everything you need to enjoy a fantastic gateway on a budget. So, before you book cheap flights to Austin, take a quick look at the tips listed beneath: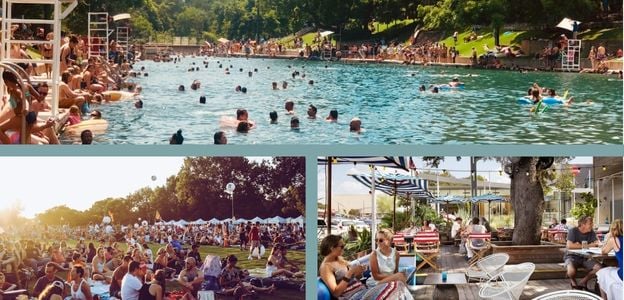 1. Food Heaven For Food Lovers
Austin is highly famous for its food truck culture. From delicious tacos to barbecue to gourmet doughnuts, you can find mouthwatering meals on wheels at a fraction of the cost of a sit-down restaurant. Head to the South Congress Avenue food truck park to sample some local favorites. You can enjoy budget-friendly street foods, snacks, desserts, and drinks during your Austin gateway tour.
2. Explore Happy Hour Hotspots
Many vintage-theme bars and modern restaurants in Austin provide generous happy hour specials. Enjoy deals on refreshing drinks and appetizers at places like the Draught House, where you can savor craft beers without emptying your wallet. So, what are you waiting for? Book plane tickets to Austin to experience a crazy gateway with your friends and family now.
3. Enjoy Free Live Music
Austin is the live music capital of the world, and you don't need to pay a cover charge to enjoy great music or live performances by local artists. Check out venues like the Continental Club and Elephant Room, where you can groove to live music for free or a nominal fee. In Austin, you'll find culture, music, and the arts at every corner of the street.
4. Barton Springs Pool
Cool off during the scorching summers of Texas at Barton Springs Pool, a natural spring-fed pool located in Zilker Park. Admission is incredibly affordable, making it the perfect spot for a day of relaxation. This is the best way to enjoy a fantastic, affordable summertime gateway with your loved ones. Plus, you can explore local water parks to have more fun.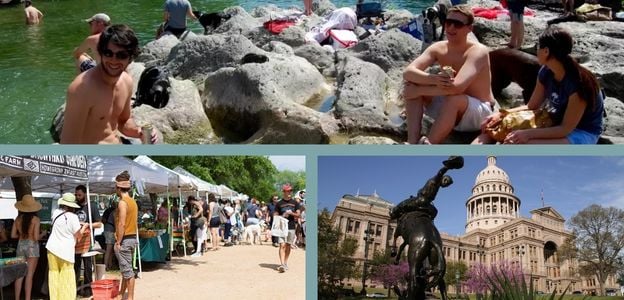 5. Go On A Hiking Trip To The Greenbelt
For outdoor adventure lovers, the Barton Creek Greenbelt presents miles of hiking and swimming opportunities. Pack a picnic, hit the trails, and take a dip in the natural pools along the way—all for free! To enjoy such great activities, make sure to hop on cheap flights to Austin and create a bucket list of the best things to do in this stunning city.
6. Explore the Capitol
Go on a free guided tour of the Texas State Capitol building. Learn about Texas's rich history, architecture, and government while admiring the beautiful grounds and magnetic beauty of the dome. This experience will blow your mind with curiosity.
7. Art Lover's Dream Destination
The Contemporary Austin's Laguna Gloria is a marvelous landmark featuring art installations and stunning sculptures. On Tuesdays, admission is free, so you can soak up some culture without spending a dime.
8. Visit The Local Food Markets
By catching flights to Austin,Tx you need to make sure to visit the Texas Farmers' Market at Mueller and fall in love with the delightful tastes of sample local foods. It's a super-busy place to engage yourself in Austin's culinary scene without going over budget.
9. Bike Ride In the City
Enjoy expanding bike-sharing programs, and roaming in the city on two wheels is not only pocket-friendly but also eco-friendly. There are many bike lanes and trails to help you navigate safely.
10. Free Festivals
Austin hosts many free festivals throughout the year. Keep an eye out for celebrations like the Pecan Street Festival, the Austin Reggae Festival, and the Kite Festival to enjoy fun and entertainment at zero cost.
11. Museum Deals
Many museums in Austin offer free admission on specific days or times. Check out the Blanton Museum of Art on Thursdays or the Contemporary Austin – Jones Center on Tuesdays for art-filled adventures on a budget.
12. Budget Accommodation
Consider staying in budget-friendly accommodations like hostels or Airbnb rentals. You can save a significant amount of money by opting for these options over high-end hotels. So, book your flights to Austin with ease to experience a wonderful vacation in this stunning city.
13. Attend Free Yoga and Fitness Classes
Various parks and fitness studios offer free yoga and fitness classes throughout the week. Start your morning with a free yoga session at Zilker Park or Auditorium Shores. Austin is a great destination for travelers who want to relax and meditate to get peace of mind.
14. Sunset at Mount Bonnell
Enjoy a hiking trip to the top of Mount Bonnell for majestic views of the city and a gorgeous sunset. This natural wonder is entirely free and offers some of the best photography opportunities in Austin.
15. Discover Quirky Side Of Austin
Austin has many beautiful parks and eco-green spaces perfect for relaxing picnics. Pack a basket and enjoy a meal in the great outdoors. Explore the weird side of the city by admiring the eccentric street art, witnessing unexpected street performances, and joining in the weirdness yourself.
Wrap Up!
With these fabulous insider tips, you can enjoy all that Austin has to offer without breaking the bank. From enjoying free live music to affordable food trucks, this city has something for everyone, even those on an affordable budget. So, pack your bags and book plane tickets to Austin,Tx to adore the unique and affordable treasures waiting for you.