The beauty of the Netherlands is unparalleled during the spring season!
This European country arises from winter's cold embrace with an eruption of color and life during springtime. Tulip fields stretch as far as the eye can see, smearing a vivid tapestry of reds, yellows, and pinks. Windmills turn gracefully against clear blue skies, reflecting on pristine canals. Stroll along captivating cobblestone streets, breathe in the sweet aroma of blooming flowers, and savor the flavors of Dutch delicacies at outdoor cafes. The Netherlands in spring is an absolute inspiration, where nature's renewal and timeless allure fascinate every traveler. And booking plane tickets to the Netherlands will allow you to experience a fairytale trip.
So, let's get started and through this guide learn more about Netherlands springtime travel: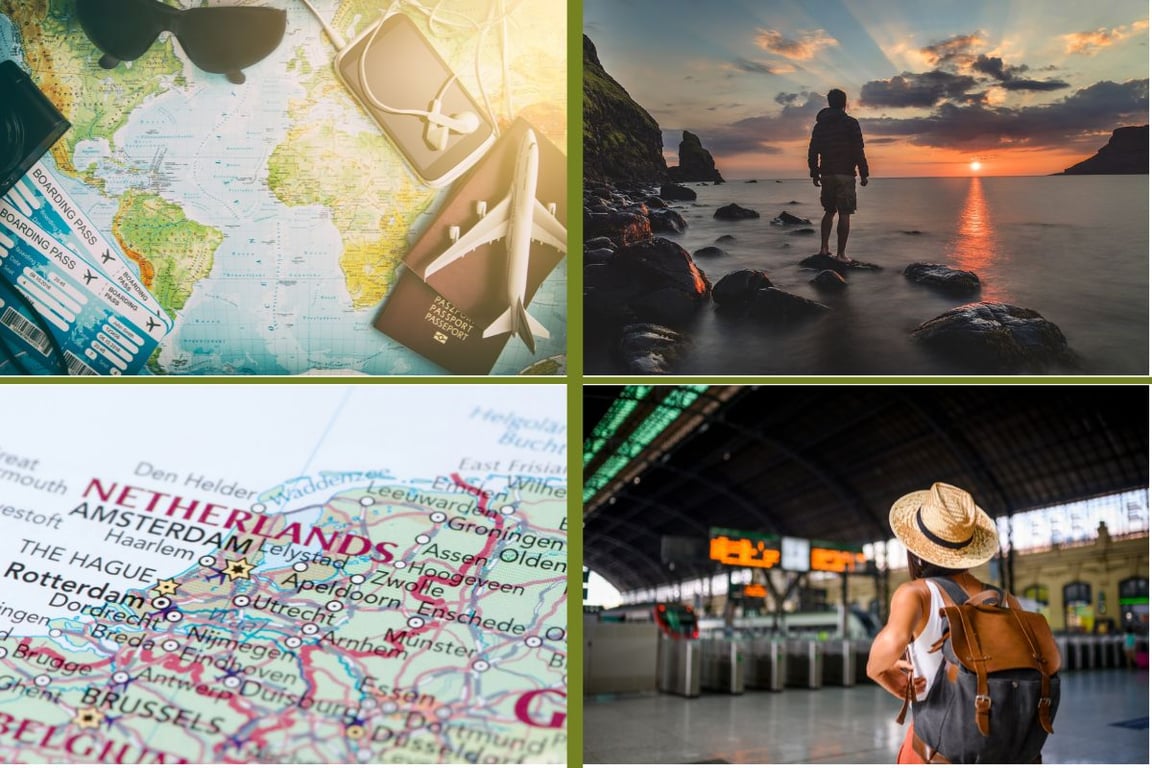 The Netherlands Springtime: Mesmerizing Places To Visit
Springtime in the Netherlands is like strolling into a vibrant postcard. The Dutch landscape transforms into a kaleidoscope of paints and cultural delights. Join us on a trip through the Netherlands, where we reveal the most captivating places and experiences that will make your trip truly memorable.
1. Keukenhof Gardens: Popularly known as the "Garden of Europe," Keukenhof in Lisse is a flowery heaven with millions of tulips, daffodils, and other blossoms in full splendor during spring. Stroll through stunning landscaped gardens and capture the dynamic colors.
2. Amsterdam's Canal District: Spring in Amsterdam is enchanting. Cruise through the iconic canals and admire panoramic views of charming historic houses decorated with tulip-filled window boxes. Ensure to book cheapest flights to the Netherlands earliest.
3. Tulip Fields of Lisse: Lisse is famous for its infinite fields of tulips. Take a bike ride or a picturesque drive through these kaleidoscopic expanses, where the fragrance of blooming flowers fills the air.
4. Giethoorn's Waterways: The Venice of the North is a tranquil village with picturesque canals, lush greenery, and magnetic thatched-roof cottages. Explore by boat for a hushed springtime retreat.
5. Kinderdijk's Windmill Village: This UNESCO World Heritage site displays 19 historic windmills amid luxuriant green meadows and canals.
6. Leiden's Historic Center: The cobblestone streets and canals are banded with blossoming trees and historic buildings. Visit during spring to see the city at its most endearing.
7. Rotterdam's Cube Houses: Rotterdam's marvelous architecture is decorated with dynamic spring scenery. The Cube Houses present a unique perspective, wrapped by tulips and greenery.
8. Gouda's Cheese Market: Glimpse the centuries-old tradition of cheese trading in Gouda's historic market, framed by multicolored tulips and a lively atmosphere during spring.
The Netherlands Tour: Favorite Things To Do
Catch the flights to the Netherlands and explore the cultural heritage and scenic beauty. Visit iconic places, cycle through picturesque landscapes, cruise the iconic canals, or savor Dutch cheese and stroopwafels in charming towns. Discover Dutch delights at every turn by enjoying the activities mentioned below:
Enjoy Bicycle Ride In Hoge Veluwe National Park: This natural attraction blossoms with a carpet of wildflowers, including bluebells and heather. Rent a bicycle and explore the park's beautiful landscapes and the Kröller-Müller Museum.
A Day Trip To Arnhem's Burgers' Zoo: Spring is the ideal time to visit Burgers' Zoo, where dense gardens and dynamic flora create a natural paradise for visitors and the animals.
Beach Day In Texel Island's Beaches: Enjoy the serenity of Texel's beaches during the blossom of spring season. Witness seals relaxing in the sun, surrounded by a backdrop of dunes concealed in blossoming beach flowers.
Explore Groningen's Martinitoren: Climb the Martinitoren in Groningen for dramatic views of the city and its neighboring places, with flowering trees and gardens below.
A Trip To Alkmaar's Cheese Market: Alkmaar's traditional cheese market is a sensorial pleasure in spring. The vibrant tulips provide a stunning backdrop to this centuries-old event, a must-do thing to enjoy in this Dutch heaven.
Explore Hertogenbosch's St. John's Cathedral: Marvel at the Gothic architecture of St. John's Cathedral in Hertogenbosch, decorated by blossoming flowers to allow you to enjoy a relaxing springtime gateway.
Birdwatching In Oosterschelde National Park: Spring is the ideal time for birdwatching and admiring the waterside landscapes that teem with life.
Cheers To Springtime: Events To Witness In The Netherlands
Catching Cheap flights to the Netherlands during springtime can allow you to enjoy vivid festivities and celebrations for a great time. The Keukenhof Gardens are a sight to behold as millions of tulips burst into full bloom, creating a multicolored landscape of beauty.
The King's Day (Koningsdag) is celebrated nationwide and is marked by street parties and flea markets. May is also an exciting month with the Liberation Day (Bevrijdingsdag) celebrations, commemorating World War II's end with concerts and parades.
The Flower Parade in Haarlem is another event worth attending as it features elaborate floats, a sight to behold. National Windmill Day is also an excellent opportunity to explore many windmills that are open to the public.
The Bright Idea: Netherlands During Summertime
After experiencing the mesmerizing springtime of the Netherlands you cannot miss an opportunity to spend a few summer days in this dutch wonderland. So, ensure to book flights to the Netherlands for spring and summer to admire the beauty of both seasons.
There's something enchanted about summertime in the Netherlands. It's the perfect time to enjoy a leisurely bike ride, delight in some delectable Dutch ice cream, or glide along the glistening Amsterdam canals. Culture enthusiasts will relish the vibrant music and cultural events. Whether you're savoring the world-renowned Gouda cheese, exploring the historic windmills, or simply soaking up the sun, a Dutch summer will surely deliver unforgettable moments in an enchanting, sun-drenched atmosphere.
Wrap Up!
Pack your beautiful springtime attire, charge up your cameras, and get ready to gather blooming memories! Encounter the Netherlands in spring, a season of blossoming beauty and cultural festivities. Explore the magnificent tulip fields, King's Day celebrations, and more. Book the cheapest flights to the Netherlands today by calling +1-800-683-0266, and embark on an unforgettable journey to make your springtime trip even sweeter. And, we hope this guide has encouraged you to experience spring like never before, so fly now.