Finding the best flight deals can be tricky, but with the right strategies and tools, you can unlock incredible savings on your next journey. This guide reveals the top secrets for scoring unbeatable airfare discounts. Whether you're a budget-conscious traveler or a spontaneous adventurer, we'll explore tips for flexible date searching, utilizing fare comparison websites, tracking fare drops, and leveraging loyalty programs. From last-minute getaways to meticulously planned vacations, this guide will empower you to uncover the best business class plane ticket at Good Friday Flights Deals ensuring your every travel experience is affordable and memorable.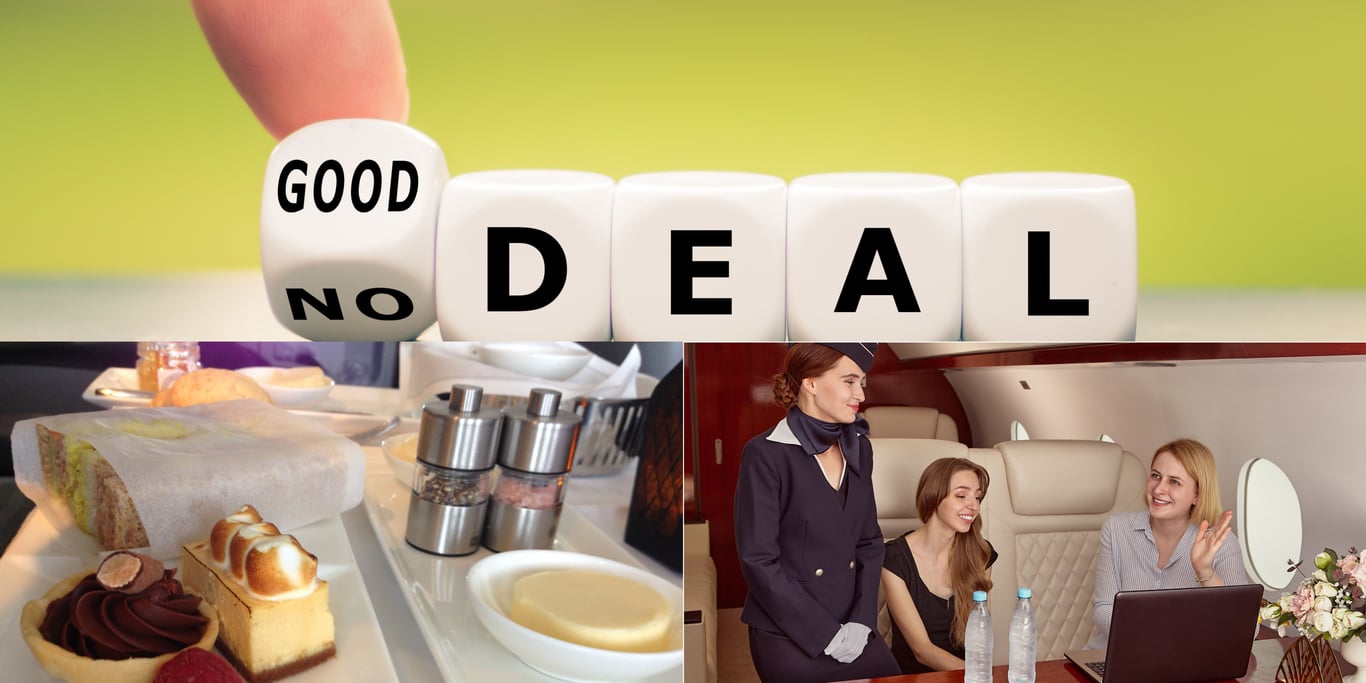 Cheap Business Class Flight Deals
Indulging in business class plane tickets offers an array of enticing perks that elevate your travel experience. First and foremost, the spacious and luxurious seating provides unparalleled comfort, allowing you to arrive at your destination feeling refreshed and ready for your journey ahead. Business class passengers are treated to gourmet dining featuring a delectable menu that caters to diverse palates.
Additionally, priority boarding and expedited security checks save valuable time, ensuring a seamless and stress-free journey. You can work, relax, and sleep comfortably with ample legroom, fully flat beds, and in-flight entertainment systems. Access to exclusive airport lounges further enhances the experience, offering a quiet and comfortable space to unwind before your flight. Cheap business class flight deals make your travel comfortable and an exceptional value for a truly memorable journey.
Reasons To Fly On Cheap Business Class Flights
There are several compelling reasons to book cheap business class flight deals, so check out the details mentioned below:
Enhanced Comfort: Business class seats offer extra legroom, larger recline, and often the luxury of lie-flat beds, ensuring a restful journey.
Gourmet Dining: Enjoy delectable, chef-prepared meals, often with a choice of dishes and paired with fine wines, making your in-flight dining a delightful experience.
Priority Boarding: Skip the long queues and board your flight swiftly, saving valuable time at the airport.
Amenities and Entertainment: Business class cabins come equipped with high-quality entertainment systems, noise-canceling headphones, and premium amenities to keep you entertained throughout your flight.
Lounge Access: Access exclusive airport lounges, providing a tranquil space for work or relaxation before departure.
Personalized Service: Business class travelers receive attentive service from flight attendants, ensuring a smooth and memorable journey from start to finish.
Good Friday Flights Deals
Securing Good Friday Flight Deals for your travels is essential for several reasons. Firstly, Good Friday marks the start of a long weekend, making it an ideal time to embark on a getaway, whether for religious observance or leisure. You can maximize your budget and make the most of your holiday break by finding discounted flights.
Additionally, traveling during this time allows you to participate in cultural and religious events worldwide, enhancing your travel experience. It's also an excellent opportunity to spend quality time with loved ones, creating lasting memories. Lastly, Good Friday Flight Deals enable you to explore new destinations, experience different traditions, and broaden your horizons without breaking the bank, ensuring your holiday is meaningful and affordable.
Reasons To Fly On Cheap Good Friday Flights
Flying on Cheap Good Friday Flights offers numerous compelling reasons:
Affordability: Using discounted fares on Good Friday allows you to explore your desired destinations without straining your travel budget.
Extended Weekend: Good Friday often falls on a Friday, creating a long weekend and an ideal time for a quick escape or a more extended vacation.
Cultural Exploration: Traveling on Good Friday provides a unique opportunity to witness and participate in various religious and cultural events commemorating the day.
Quality Family Time: It's a chance to spend valuable moments with family and loved ones, reinforcing bonds and creating lasting memories.
Less Crowded: Some travelers may stay home, leading to less crowded airports and tourist spots, ensuring a more peaceful travel experience.
Rejuvenation: A Good Friday getaway allows you to relax, rejuvenate, and return refreshed, making the most of your time off while enjoying the benefits of discounted flights.

Get The Best Flight Deals Today!
Ready to embark on an adventure without breaking the bank? It's time to channel your inner deal-hunter and Get The Best Flight Deals Today! We're not talking about ordinary flight deals but deals that make your wallet do the happy dance. Whether you're planning a beach escape, a city break, or a spontaneous journey to the mystical land of "Wherever-the-wind-takes-me," we've got your back. Say goodbye to full-priced flights and hello to cheap business class flight tickets and other flight deals to save more money for souvenirs, quirky local eats, and maybe even a tiny umbrella drink. Get ready to conquer the world, one quirky adventure at a time!
Final Thoughts
In conclusion, whether you're seeking an affordable adventure this Good Friday or craving the luxuries of Business Class without the hefty price tag, it's time to take flight. Book your Good Friday and Cheap Business Class flight today, and let your travel dreams take wing. Affordable and comfortable flying experiences await, ensuring your journeys are memorable, whether exploring new cultures or unwinding on a well-deserved break. To know more about the best flight deals just give a call at +1-800-683-0266 and get expert assistance now.