Planning to make flight reservations for your next trip?
Wherever and whenever you're planning to travel, get the best cabin seat that can meet your budget and comfort accordingly. In this guide, you can go through some crucial details associated with the different cabin types and the perks of the services you can get. So, if you want to book your business class or economy class flights, this guide covers you. Without wasting any time, let's get started:
THE ECONOMY CLASS
Economy Class is the standard travel class on any airline. Economy class provides basic accommodation with minimal comforts and features.
Passengers in Economy Class are generally limited to one or two pieces of hand luggage, a seat with limited recline capability, and shared entertainment options.
Economy Class tickets are usually significantly cheaper than premium economy, business, and first tickets. The seats are typically more densely packed, and the amenities are less luxurious. If you want to experience a low-cost short-haul flight, we recommend booking Economy class flights.
Pros Of Flying On Economy Class Flights
Here are some vital points supporting the idea of hunting Economy Flights Deals for budget-friendly travel experiences.
Economy class fares are less expensive.

It comes with more seats, which makes it easier to book anytime.

There are no hidden fees when booking economy class seats

It's a great option for booking last minute flight tickets.

Allows to carry free checked bags with specific weight limits.

Great for short haul flying experiences.
Cons Of Flying On Economy Class Flights
Here are some downsides to economy class that you might face!
Limited Amenities

Less flexibility in seats and legroom

Limited baggage allowance

Sometimes it's too crowded
Best Airlines With Economy Class
If you want to experience a comfortable and smoother economy class flight, many top-notch airlines offer excellent services. Japan Airlines, Singapore Airlines, Emirates, Qatar Airlines, Cathay Pacific, Etihad Airways, All Nippon Airways, and Virgin Atlantic are the best airlines that deliver an extra comfortable and fantastic economy class flight experience beyond your expectations.
THE BUSINESS CLASS
The business class flight experience is assembled to provide passengers with the utmost convenience, supreme comfort, and luxury. It typically includes spacious seating designed for maximum comfort, state-of-the-art technology, access to premium entertainment options, and a top-notch culinary experience.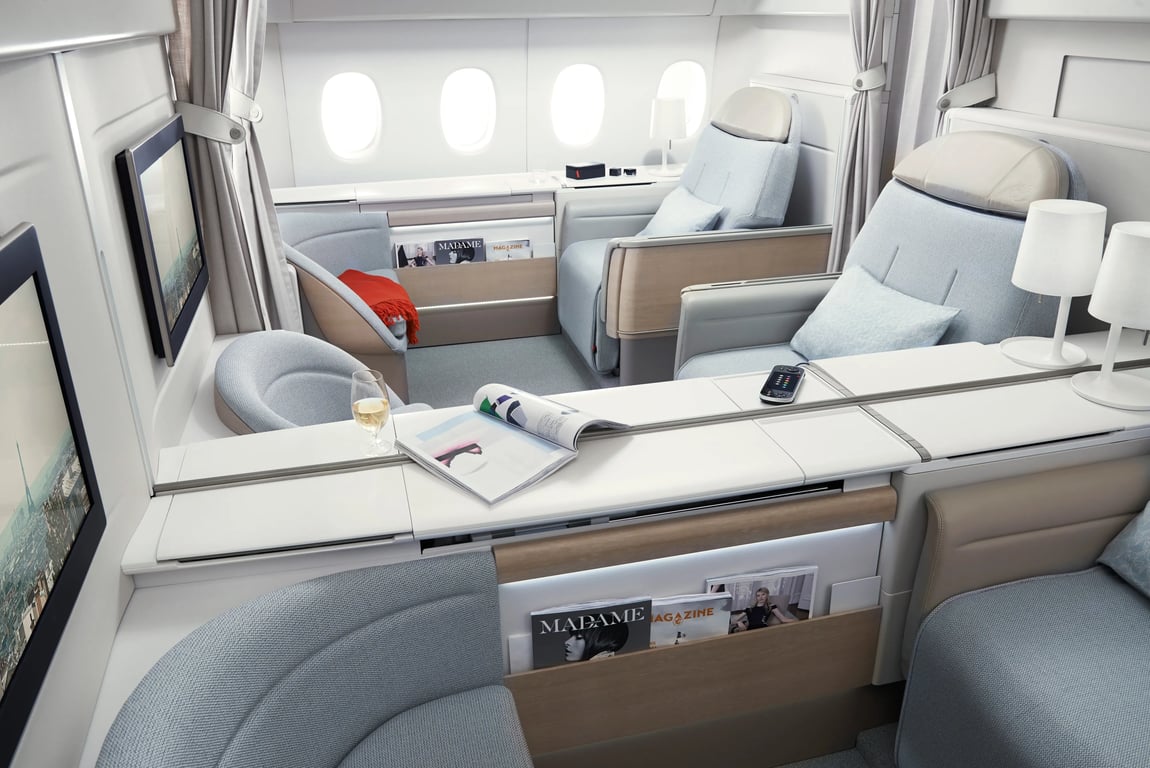 Business class flights offer passengers priority boarding, dedicated check-in, access to airport lounges, and a generous checked baggage allowance. Depending on the airline, further amenities, such as concierge services, spa treatments, and signature gifts, may be available.
Pros Of Flying On Business Class Flights
Here are some topnotch awesome benefits that you can only enjoy by flying on cheap business class flights:
Priority Check-In & Boarding

Additional Baggage Allowance

Get access to luxe Business Class Lounges

Bigger Better Seat with privacy and legroom

A fine Dining experience with complimentary drinks

Get a luxurious amenity kit with pillows and blankets

Vivid inflight entertainment options

Wi-Fi connectivity
Cons Of Flying On Business Class Flights
Here are some cons that you might face while traveling on business class:
Overbooked flights with bigger competition for better seats

Higher fare and sometimes adds additional expense

Not a kids-friendly spot due to the quiet environment
Best Airlines With Business Class
There are many world-class airlines recognized for heightening business class experience superbly. If you want to enjoy the best luxuries and privileges of business class, you can choose to fly on Qatar Airways, Singapore Airlines, Emirates, ANA All Nippon Airways, Delta Air Lines, Virgin Atlantic, Air France, and Etihad Airways. These top-notch airlines are famous for making your travel experience heavenly, so book business class flights now.
THE FIRST CLASS
For an extravagant travel experience, The first class is known for decorating journeys with prestigious amenities and services. From personal assistance to superior amenities, some advantages of flying first class include enhanced comfort and privacy, broader and more comfortable seats, gourmet dining options, complimentary drinks, access to exclusive airport lounges, private security lines, priority boarding, and more.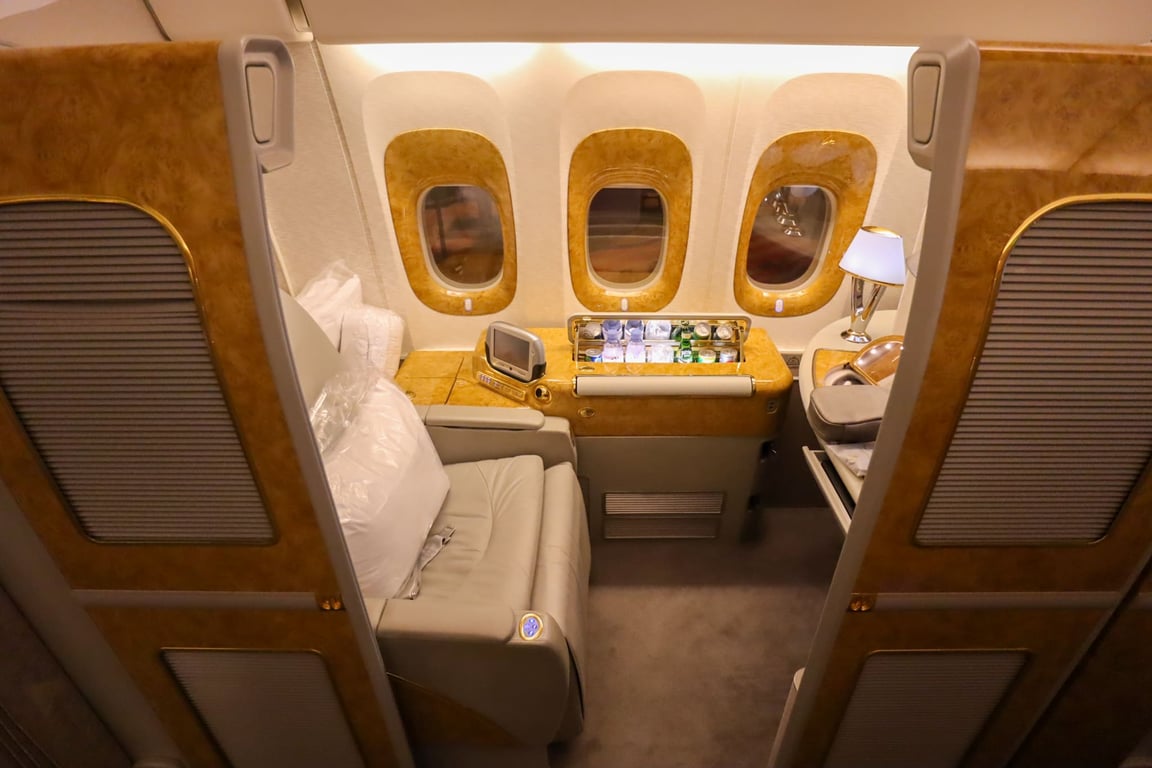 Flying on first class flight is the perfect way to travel in top-notch luxury while getting to your destination in style. And, some airlines offer chauffeur service to their first class passengers.
Pros Of Flying On First Class Flights
Here are some unique and luxurious advantages that you can enjoy while flying on first class flights:
First to check-in and board

Enjoy expensive free foods, snacks, and complimentary drinks

Inflight shower service

Experience VIP treatment at airports in First Class lounge area

Relax on lie-flat seats with modern functions

Wide food and drink options, with desserts

Get amenity kits of luxurious brands with loungewear sets and slippers

Enjoy chauffeur service
Cons Of Flying On First Class Flights
Here we have listed some drawbacks that you might face when flying first class:
First Class tickets are highly expensive

Always not available for international flights

There are fewer first class seats, and flights are overbooked.

Older planes with first-class cabins offer fewer advantages
Best Airlines With First Class
Singapore Airlines, Emirates, Etihad Airways, Qatar Airways, Air France, British Airways, Lufthansa, and Cathay Pacific offer the best-in-class first-class flying experience. So, if you want to enjoy a luxurious flying journey, get on First class flights.
Final Thoughts
Make your every journey easier and better! Whether you want to fly affordably or luxuriously, the choice depends on you. But these three flight cabin classes are the most popular and offer services according to their standards and the fare you pay. So, fly on Cheap Economy Flights or business class flights; choose the best airlines for travel.