Hey travel enthusiasts! Have you ever heard of red-eye flights? They're also known as overnight flights, and they can be a total game-changer when it comes to saving time and money while traveling. Basically, they leave late at night and arrive early in the morning, so they're perfect for people who want to make the most of their time at their destination or avoid busy airports during the day. In this blog post, we're going to share some super helpful tips for booking red-eye flights, from finding the best deals to staying comfy on the plane. So, get ready to discover the secrets of stress-free red-eye travel!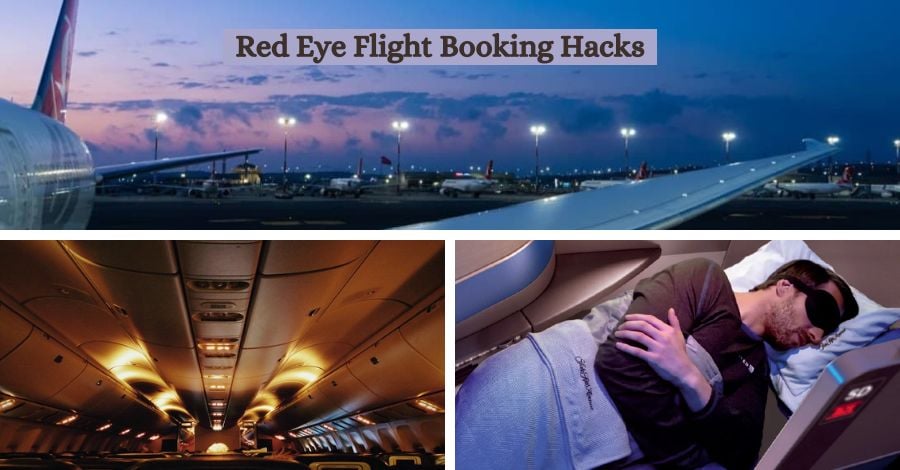 Timing is Everything
Timing is crucial if you're considering booking a red-eye flight. To get the best deals, it's recommended that you plan your trip about 11 months in advance, when airlines typically release their flight schedules and fares. Keep an eye out for fare sales and promotions, often announced months ahead of departure dates. Booking your flight for mid-week, such as Tuesday or Wednesday, can also lead to more affordable prices due to lower demand on these days compared to weekends. Booking cheap red eye flights can help you accomplish unexpected to last minute travel plans without any tension or hassle.
Utilize Fare Comparison Websites
Remember that the power is in your hands when finding the perfect deal for your red-eye flight. By utilizing fare comparison websites and famous travel apps, you can take control of your travel plans and make the most of your budget. These tools permit you to explore your options and find the best possible deal. So take the leap and embark on your next travel adventure confidently and excitedly. With professional travel sites, you can enjoy the reliability of flying without any hassle. Therefore, it's your time to book red eye flight tickets and fly anywhere you want on a pocket-friendly budget.
Be Flexible with Your Travel Dates
It is important to remember that flexibility can be a powerful tool for booking red-eye flights. You can find significant savings by being open-minded about adjusting your travel dates by a day or two. Airlines frequently adjust their fares based on demand, so a slight change in your departure or return date can make a big difference in price. So, don't hesitate to use the flexible dates feature on booking websites to see if a slight adjustment can help you snag a better deal and make your travel dreams a reality. Reserving red eye flights can help you save time and money for travel anytime you want.
Join Loyalty Programs and Use Miles
Frequent flyer programs can be an influential asset when booking red-eye flights. By accumulating miles or points through these programs, you can benefit from the best discounts, upgrades, or even free flights. Some credit cards even offer bonus miles when you sign up, which can significantly boost your mileage balance. To make the most of your savings, watch for promotions or partnerships between airlines and credit card companies. With careful planning and a bit of savvy, you can leverage these programs to your advantage and make your red-eye flights more enjoyable.

Pack Smart for Comfort
Traveling overnight on a cheap red eye flights can be more comfortable if you pack wisely. Bring essential items like a neck pillow, earplugs, an eye mask, and a blanket to help you sleep better during the flight. Wear comfortable clothing and consider bringing a change of clothes when you arrive at your destination feeling refreshed. Remember to stay hydrated by drinking water throughout the flight, and avoid excessive caffeine or alcohol, as they can disrupt your sleep.
Arrive Prepared at the Airport
To make your red-eye flight experience as smooth as possible, arrive at the airport well-prepared. Check-in online before you come to avoid long lines at the counter. Arriving early will give you time to clear security and find a relaxing spot before your flight. It's also a good idea to have snacks on hand if you get hungry during the flight, since not all airlines provide food on overnight flights.
Conclusion
Red eye flights can be a great way to save money and maximize your travel time. If you want to take advantage of these flights, there are a few things to remember. First, plan ahead and stay flexible with your dates. This will allow you to find the best deals and take advantage of sales and promotions. Second, consider using loyalty programs and miles to save even more money.
Third, prepare for in-flight comfort by packing a neck pillow, eye mask, earplugs, or noise-canceling headphones. Finally, remember that the benefits of red-eye travel include fewer crowds, lower prices, and the possibility of arriving at your destination feeling refreshed and ready to explore. So go ahead and book that overnight flight—it may just be your best decision for your next vacation or trip!